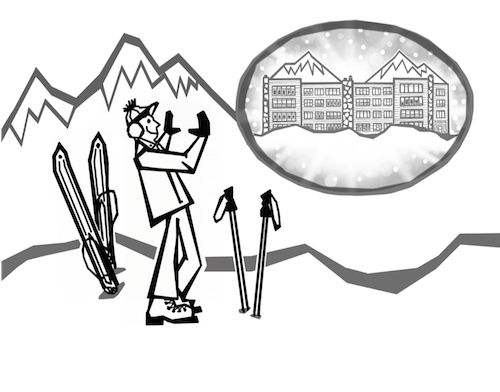 FAQ
What you need to know to make the most of your time here!
Click on each title below to expand…
What is Ski In Ski Out?

ski in ski out
Alta Blackjack occupies a phenomenally stellar location in Little Cottonwood Canyon.
It is tucked between Alta Ski Area and Snowbird Resort, less than a mile from each.
Elevation wise, it is lower than Alta and higher than Snowbird.
To see more about our stellar location click here!
Ski to Snowbird Resort:
From the Alta Blackjack front door, head about 100 yards down the driveway due west. Flat and paved, a quick walk for anyone- when the road has snow on it, it is skiable from door to lift and back. Enter Snowbird at the top of the Whodunnit run about halfway down the Peruvian Gulch. Whodunnit run will take you straight down a snowcat path to the Snowbird Center. Appropriate for any Intermediate skier.
Ski Home from Snowbird Resort:
You can ski home off of the Tram, Mineral Express or the Peruvian lift. Just keep to the cat tracks on skier's right. At the top of the Whodunnit run you will be at the access point you skied to at the beginning of the day. Alta Blackjack's front door is about 100 yards away due east. Flat and paved- skiable when there is snow or a quick easy walk for anyone. Appropriate for any Intermediate skier.
How to get to Alta without using a car or shuttle:
You can walk to Alta Ski Area by heading east through our parking lot, through Powder Ridge and onto the Wildcat snowcat path. It is about half a mile, and when there is snow on the ground, most can be done on skis in a cross country manner. For the outdoor enthusiast who enjoys getting their blood pumping, this is an easy enjoyable jaunt.
How to ski home from Alta:
From the Wildcat or Collins lift, at the Collins mid-station follow snowcat trail on skier's left. Traverse under Wildcat ski lift, keep following the path (marked with orange ribbons on trees), traverse Westward Ho runs continuing to follow orange markers and heading west (skier's left) until you come to the backyard of the Alta Blackjack building. Note: This is considered a Black Diamond run as it takes you through wooded areas that are still in-resort but are relatively secluded. Ski it with a friend. Do not ski it if you are not a comfortable Black Diamond skier.
Alta Resort Shuttle. Fast. Free. Easy!
There is also a quick, easy, free shuttle that will take you from the front door of Alta Blackjack to the Collins or Sunnyside base at Alta Ski Area and back again, on call anytime throughout the day.
Click here to go to our transportation page for more details.
What is Interlodge?
Have you heard abut Interlodge?
It is such an anomaly here in Little Cottonwood Canyon! You have probably gathered that we have potential to get lots and lots of dry light snow. There are times when the snow stacks up quickly or precariously against the mountain faces that surround our canyon. When this happens, the Town Marshall calls an Interlodge. During Interlodge everyone is required, by law, to be inside a building. Typically, Interlodges are managed to be as expedient an unobtrusive as possible and occur late at night or early in the morning. Often they happen without even causing any blip on the radar of Alta guests and residents. Occasionally, they can be more significant, lasting for longer periods of time or disrupting travel or dining plans.
We strongly recommend the purchase of trip insurance and stocking your condo with at least two days of groceries per guest. We are happy to help you make these arrangements.
Click here for information about our Grocery Stocking Service.
Keep in mind…an Interlodge day can be the best skiing day ever! Lots of snow and road closures mean that everyone who didn't spend the night in Alta cannot get up here quickly. Staying at Alta Blackjack, you are perfectly poised. March out the door when Interlodge is lifted and you have a unique head start on the day of powder skiing ahead. This is a day when memories are made. It is the stuff of legend!
What is in an Alta Blackjack condo?
Each condo at Alta Blackjack is supplied with:
A flat screen tv with HD-DVR
WiFi internet access
There are clean linens on beds, and down comforters with Frette covers.
A bath towel a hand towel and a washcloth per guest.
Each condo has several throw blankets.
Condos are supplied with laundry soap, there are free laundry machines on every floor.
There is a hairdryer in each condo.
In the kitchen you will find dish soap, dishwasher soap, a sponge, and a small supply of garbage can liners.
Kitchens are fully equipped with pots, pans, utensils, flatware, plateware, glassware, etc. Supplies of foil, saran wrap, ziplocs and the like vary and are not guaranteed. Kitchens are not pre-stocked with any food items. We offer a Grocery Stocking Service. Click here for information.
Click here for a full description of each of our Alta Blackjack condos.
May I bring Fido, Spot and Fluffy?
Please no Pets!
Another remarkable thing about Little Cottonwood Canyon is that we are a watershed. That means dogs and other pets are only allowed by permit. There are no pets allowed at Alta Blackjack.
No Smoking
Smoking is not allowed within 20 feet of the building or within any of its walls or units.
Will I feel the altitude?
Alta Blackjack's elevation is at about 8,500 feet. For most, the effects are minimally felt, if at all. You may experience a slight headache, sometimes it is not as easy to fall asleep for the first night or two. (For some, high altitude dreaming can be a real treat!). It helps to drink a lot of water before and during your stay. If your symptoms are more than a slight discomfort, we have pamphlets on altitude and information on the local clinics and health professionals in the area in your guest book. (For more information on our local clinics and area hospitals click here). We encourage you to call us, anytime. We live in the building and we will be happy to help you. For our contact information click here or consult your guest book.
do I need to rent a car? how will I get around if I don't?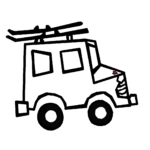 Alta Blackjack is less than an hour away from Salt Lake International Airport.
For many, a vacation that starts by air automatically implies the need to rent a vehicle. That imperative is not a foregone conclusion at Alta Blackjack.
If your main objective in coming here is to ski (or snowboard) and you plan to stay
in Little Cottonwood Canyon throughout your stay, you might not need a vehicle of your own.
Click here for more information about transportation options.
No matter what you decide, we will be happy to help you make the necessary arrangements.
what else should I be thinking about as I make my plans?
Your time at Alta Blackjack is precious, we want you to spend it relaxing.
It is important to be sure you have at least two days worth (per person) of groceries in your kitchen during your stay.
If you would like us to stock your groceries for you, we would be happy to.
For more information about Grocery Stocking details please click here.
For details about transportation, please click here.
For links to local businesses we love, including ski areas, ski shops, ski school, daycare options and restaurants click here.
Interested in discount lift tickets? Please click here.
Questions? Call us!
We love talking about our place